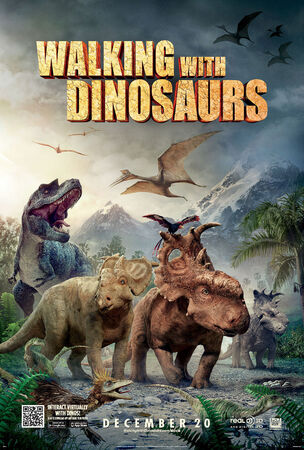 Walking with Dinosaurs
is a 2013
family film
about dinosaurs in the
Late Cretaceous
period 70 million years ago. The production features computer-animated dinosaurs in live-action settings with actors
John Leguizamo
,
Justin Long
,
Tiya Sircar
, and
Skyler Stone
providing
voiceovers
for the main characters. It was directed by
Neil Nightingale
and
Barry Cook
from a screenplay by
John Collee
.
The film was produced by BBC Earth and Evergreen Films and was named after BBC's 1999 television documentary miniseries. The film, with a budget of US$80 million, was one of the largest independent productions to date; it was financed by Reliance Big Entertainment and IM Global instead of a major studio. The majority of distribution rights were eventually sold to 20th Century Fox. The crew filmed footage on location in the U.S. state of Alaska and in New Zealand, which were chosen for their similarities to the dinosaurs' surroundings millions of years ago. Animal Logic designed computer-animated dinosaurs and added them to the live-action backdrop. Though the film was originally going to have a narrator like in the miniseries, 20th Century Fox executives decided to add voiceovers, believing it would connect audiences to the characters.
Walking with Dinosaurs premiered on 14 December 2013 at the Dubai International Film Festival. It was released in cinemas in 2D and 3D on 20 December 2013. Critics commended the film's visual effects but found its storytelling to be subpar and derided the voiceovers as juvenile. The film grossed US$36.1 million in the United States and Canada and US$90.5 million in other territories for a worldwide total of US$125.4 million. The Hollywood Reporter said the film's global box office performance was disappointing in context of the production budget and marketing spend.
Appearences in EDP Projects
Edit
AniMat's Reviews - Walking With Dinosaurs he reviews the film and awards it the AniMat's Seal of Garbage for the distracting last minute annoying voiceovers covering a heartfelt story and annoying characters (yet he strongly lauded the animation for being realistic and beautiful. Despite the fact that he gave the animation a 10/10, it was lower than expected for AniMat to give the movie a 4/10). At the end, it's mentioned as one of five animated films he reviewed in 2013 that had, like the other four, recieved the AniMat's Seal of Garbage.
Top 5 Best & Worst Animated films of 2013 footage of the film is shown throughout the video, mostly when he talks about it, which is when he awards it the #3 spot on the worst list.