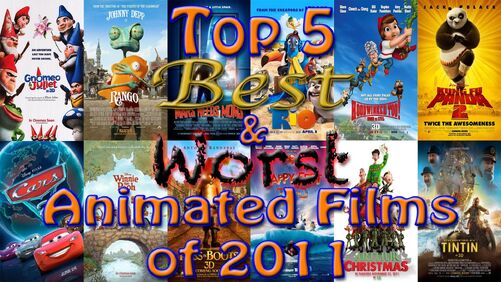 Top 5 Best and Worst Animated Films of 2011 is a video made by AniMat at the beginning of 2012 to show the 5 most memorable and impressive films, as well as the most terrible and and wrathful animated films of the preceding year, 2011. This marked the start of his Top 5 Best & Worst Animated Films videos that he released annually at the beginning of each year. Like the other Top 5 Best & Worst Animated Films videos he made later, it includes a peek at the end of the next year's animated films as well as his reactions to them. But unlike those later videos, he has an Honorable Mention of The Lion King in 3-D instead of a film from 2011. However, he briefly implies that he would give it to his mentioned-only runner-ups, Rio and Winnie the Pooh.
It you want to see the transcript, click here.
Countdown
Edit
Best
3. Rango
Worst
4. Cars 2
1. Hoodwinked Too! Hood vs. Evil
His thoughts on 2012's films in advance
Edit
The Secret World of Arrietty: Cool.
The Lorax: Doubt.
The Pirates! Band of Misfits: Great.
Madagascar 3: Europe's Most Wanted: Not sure.
Brave: Gonna be good.
Ice Age: Continental Drift: Not another one.
ParaNorman: Interesting.
Hotel Transylvania: Help me, Jeebus.
Frankenweenie: Can't wait.
Wreck-It Ralph: Maybe.
Rise of the Guardians: Awesome.