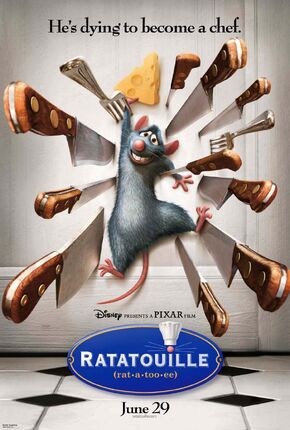 Ratatouille is a 2007 American computer-animated comedy film produced by Pixar Animation Studios and released by Walt Disney Pictures. It is the eighth film produced by Pixar, and was co-written and directed by Brad Bird, who took over from Jan Pinkava in 2005. The title refers to a French dish, "ratatouille", which is served at the end of the film, and is also a play on words about the species of the main character. The film stars the voices of Patton Oswalt as Remy, an anthropomorphic rat who is interested in cooking; Lou Romano as Linguini, a young garbage boy who befriends Remy; Ian Holm as Skinner, the head chef of Auguste Gusteau's restaurant; Janeane Garofalo as Colette, a rôtisseur at Gusteau's restaurant; Peter O'Toole as Anton Ego, a restaurant critic; Brian Dennehy as Django, Remy's father and leader of his clan; Peter Sohn as Emile, Remy's older brother; and Brad Garrett as Auguste Gusteau, a recently deceased chef. The plot follows Remy, who dreams of becoming a chef and tries to achieve his goal by forming an alliance with a Parisian restaurant's garbage boy.
Development of Ratatouille began in 2001 when Pinkava wrote the original concepts of the film. In 2005, Bird was approached to direct the film and revised the story. Bird and some of the film's crew members also visited Paris for inspiration. To create the food animations used in the film, the crew consulted chefs from both France and the United States. Bird also interned at Thomas Keller's French Laundry restaurant, where Keller developed the confit byaldi, a dish used in the film. Ratatouille premiered on June 22, 2007 at the Kodak Theatre in Los Angeles, California, and had its general release on June 29, 2007 in the United States. The film grossed $623.7 million at the box office and received critical acclaim. The film later won the Academy Award for Best Animated Feature, among other honors.
Appearences in EDP Projects
Edit
Animation Lookback: Pixar Animation Studios footage from it is shown throughout the episode. Most namingly, when he talks about it in part 3. In part 6, he awards Ratatouille the #7 spot on his Top 10 best Pixar films list.
AniMat's Reviews - The Nut Job when disgussing the animation, AniMat positively metions that the squirrels and rats have more of a Disney character design, and a image of Remy from Ratatouille appears on screen to prove the point by comparison.
Section heading
Edit
Write the second section of your page here.