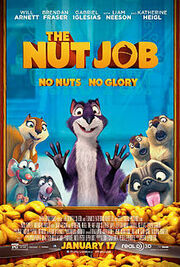 The Nut Job
is a 2014
3D
computer-animated
comedy film
directed by
Peter Lepeniotis
(who also wrote the film with Lorne Cameron) and starring the voices of
Will Arnett
,
Brendan Fraser
,
Gabriel Iglesias
,
Liam Neeson
and
Katherine Heigl
. The film is based on Lepeniotis's 2005 short animated film
Surly Squirrel
.
[6]
It was released on January 17, 2014, by
Open Road Films
.
[7]
With a budget of $42.8 million, it is the most expensive animated film co-produced in South Korea.
[2]
A sequel, titled The Nut Job 2, is scheduled to be released on January 15, 2016
Appearences in EDP projects
Edit
Top 5 Best & Worst Animated films of 2013 at the end of the video, when he looks at what 2014's animation would offer, a poster for it is shown, and he labels it as "BLAGH!!"
AniMat's Reviews - The Nut Job Although praising some aspects of the animation and saying that it is not the worst animated film the Weinstein Company was involved with, he rewards it the AniMat's Seal of Garbage for the "disgusting, mean-spirited" aesthetics of the film, notably the majority of the characters and the heist story. The film's humor is also panned, citing the terrible nut puns and cheap toilet humor.
Section heading
Edit
Write the second section of your page here.