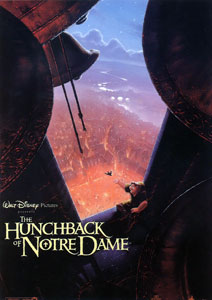 The Hunchback of Notre Dame is a 1996 American animated musical drama film produced by Walt Disney Feature Animation and released by Walt Disney Pictures. The 34th animated feature in the Walt Disney Animated Classics series, the film is based on Victor Hugo's novel of the same name. The plot centers on Quasimodo, the deformed bell-ringer of Notre Dame and his struggle to gain acceptance into society.
The film is directed by Kirk Wise and Gary Trousdale and produced by Don Hahn. The songs for the film were composed by Alan Menken and written by Stephen Schwartz, and the film features the voices of Tom Hulce, Demi Moore, Kevin Kline, Paul Kandel, Jason Alexander, Charles Kimbrough, David Ogden Stiers, Tony Jay, and Mary Wickes (in her final film role). Produced during a period known as the Disney Renaissance, the film is considered to be one of Disney's darkest animated films due to its mature themes, similar to films such as The Black Cauldron[3] and released during the same period of time in the 1990s that the first-run episodes of Disney's still-popular Gargoyles, with a similar degree of "darkness" in its own storyline, were airing on American television.
The Hunchback of Notre Dame was released on June 21, 1996 to largely positive reviews and commercial success. It grossed over $325 million worldwide and was the fifth highest-grossing release of 1996. It received Academy Award and Golden Globe Award nominations for its music and score. A darker, more Gothic stage adaptation of the film, was re-written and directed by James Lapine and produced by Walt Disney Theatrical in Berlin, Germany, as Der Glöckner von Notre Dame, and ran from 1999 to 2002. A direct-to-video sequel, The Hunchback of Notre Dame II, was released in 2002.