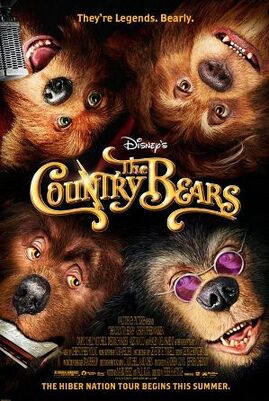 The Country Bears is a 2002 American family musical film, directed by Peter Hastings, produced by Walt Disney Pictures, and based on the famous Disney attraction Country Bear Jamboree. The film stars Haley Joel Osment as the voice of Beary Barrington with supporting roles done by Christopher Walken, Stephen Tobolowsky, Daryl Mitchell, M.C. Gainey, Diedrich Bader, Alex Rocco, Meagen Fay, Eli Marienthal, and the voice talents of Diedrich Bader, Candy Ford, James Gammon, Brad Garrett, Toby Huss, Kevin Michael Richardson, and Stephen Root.
It was Disney's third film based on an attraction at one of its theme parks, following Tower of Terror (1997) and Mission to Mars (2000) and followed by The Haunted Mansion (2003) and the Pirates of the Caribbean film series. It was released July 26, 2002.
Appearences in EDP projects
Edit
Top 10 Worst Films Based on a Cartoon in the introduction, when he talks about how Hollywood takes simple things and makes them into a bad movie, the third example he gives is theme park rides. In response to this, the poster (the one above) slides on screen.
Section heading
Edit
Write the second section of your page here.