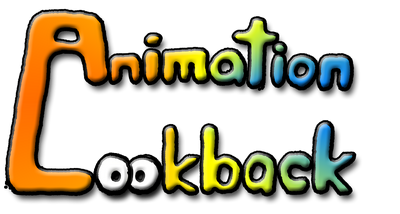 Animation Lookback is a Canadian adult/dark comedy documentary web series created and hosted by Mat Brunet (aka AniMat) in 2009. The series follows Brunet discusses the history of worldwide old and modern animation studios, animators and the works of animations made over the years.
The series is rated TV-PG as it contains some of the adult humor, languages, mature contents, and unpleasant and disturbing graphic yelling/exclamation throughout.
It is available on YouTube.
Show's info
Edit
Genre: Web series, Comedy, Dark comedy, Documentary, Spoiler, Insult comedy, Review
Host: Mat Brunet (aka AniMat)
First released: October 16, 2009
Country: Canada
AniMat got the idea in 2008 from Cinemassacre's Monster Madness: GodzillaThon (Long live Cinemassacre!!!!!) and was facinated by the concept of talking about the history of a project. Initially it was thought of as a video game review vlog, but the idea was scrapped due to needing expensive lighting and went for a simple Disney history project. All of the 49 films were initially supposed to be in seperate videos individually but due to requiring more time, there would simply be a whole season of Disney history with 3-5 films in each episode. After finishing the project in summer 2009, the first episode was uploaded on October 16, 2009 to critical success and AniMat decided to make more seasons talking about different studios, franchises, animation mediums, animators, and even channels while also getting better lighting and sound quality as the years progressed.
Episodes
Edit
#
Released years
Episode titles
Number of scenes (do not erase)
Episodes
Discriptions
Topics
Honorable Mentions
Scenes
Notes/Trivias
1
2009-2010
Walt Disney Animation Studios
24
14
In this episode, Mat goes through history of the world's legendary and longest running animation studio Walt Disney Animation Studios and its ongoing series of the most timeless animated feature classics.
Walt Disney Animation Studios
Marry Poppins (1964) (live action/animated)
Who Framed Roger Rabbit (1988) 

(live action/animated)

24
The show's first season
2
2010
DreamWorks Animation
24
7
Mat tells the history and the works of DreamWorks Animation, an animation studio known for to be one of the major rivals of Disney and Pixar of animation marketing, with film and the most memorable works including Shrek, Madagascar, Kung Fu Panda, How to Train Your Dragon and more.
DreamWorks Animation
Father of the Pride (2004) (TV series)
24
3
2010
Hanna-Barbara
28
5
AniMat explains the timeline story of the animation works created and produced by two men, Bill Hanna and Joe Barbera and their famous animation company Hanna-Barbera, which was known for making animated series for television for four decades , and introduces such popular cartoon stars such as Tom and Jerry, Huckleberry Hound, Yogi Bear, The Flinstones, The Jetsons, Scooby Doo, their version of The Smurfs, and more.
Tom and Jerry

Hanna-Barbera Productions The 1st-5 Cartoon Cartoons (Dexter's Laboratory, Johnny Bravo, Cow and Chicken, I Am Weasel and the original Powerpuff Girls)

The Funtastic World of Hanna-Barbera (1990) (attraction)

Charlotte's Web (1973)

28
4
2011-2012
Don Bluth
25
5
Mat discusses the career story about one of former Disney animators Don Bluth, who produced the most timeless cult animated classics to compete Disney in the animation industry during the 80s and 90s.
Don Bluth

Sullivan Bluth Studios

Fox Animation Studios

Dragon's Lair (1983) (video game)

Space Ace (1983) (video game)

Dragon's Lair II: Time Wrap (1991) (video game)

24

This the first Animation Lookback spiecal to be facuse on the animator.

5
2012-2013
Pixar Animation Studios
32
6
Mat tells about Pixar, a company who's known for the arts of computer animation and released such memorable animated classics like Toy Story, Cars, Finding Nemo, Monster Inc., etc.
Pixar Animation Studios
Luxo Jr. (1986) (short film)
32
6
2014-2015
Best of Stop-Motion
40
10
Mat explains about how the arts of stop-motion, an animation technquie that is used for entertainment and a special effects tool for films and other entertainments. He also states about the films that're been use with the same medium, including the most important companies and people in the industry such Ray Harryhausen,Will Vinton, Aardman, Tim Burton, and Henry Selick.
Stop-motion animation and effects

Ray Harryhausen

Will Vinton

Bob Clampett

Aardman

Tim Burton

Henry Selick

King Kong (1933) (live action)
40
7
2015-2016
Studio Ghibli
27
6
Mat explains about one of Japan's award-wining legendary animation studio Studio Ghibli.
Studio Ghibli
Castle of Cagliostro (1979)
23
This is the first season to focus on a non-American productions.
8
2016- 2017
Looney Tunes
24
21
Parodied Bugs Bunny/Road Runner Movie, AniMat tours the viewers through history of one of Warner Brothers' most important properties and most famous works in the field of animation which is the none other than Looney Tunes, a series which is known for to be a direct competitor of Disney's animated short series like Mickey Mouse and Silly Symphonies, with the use format of animation which is cartoons, features the collection of most famous animated stars like Bugs Bunny, Daffy Duck, Porky Pig, Foghorn Leghorn, Elmer Fudd, Tweety, and others.
Looney Tunes
Space Jam (1996)

Looney Tunes: Back in Action (2003)

23

This the first season to be focus on the animation franchise.

9
2017-2018
Cartoon Network
38
6
AniMat explain the viewers about Cartoon Network, the best place for cartoons, which is showcasing existing, licensed and original and animated programs. And he also discuss about the channel's original animated tv shows (except for the first-5 Cartoon Cartoons which are Dexter's Laboratory, Johnny Bravo, Cow and Chicken, I Am Weasel and the original Powerpuff Girls).
Cartoon Network's Original animated TV shows
Over the Garden Wall (2014)
??
This is be the first season to talk about a channel.
10
2018
Ralph Bakshi
30
5
AniMat will explain the history of Ralph Bakshi, the king of adult animated movies.
Ralph Bakshi's Adult Animated Movies
Mighty Mouse: The New Adventures (1987)
11
2019
The Thief and the Cobbler
TBA
TBA
AniMat will explain the history of Richard Williams and his never-ending quest to finish The Thief and the Cobbler.
The Thief and the Cobbler
??
This is the first season to talk about just one movie as the main focus.
External Links
Edit
TBA